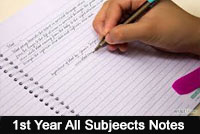 All the students looking for 1st year notes can take notes of all subjects. Its very hard to learn of students of 1st year by text books after switching matric to FSC.
Notes are very handy stuff for education point of view. Notes make study more easy, more understandable. So first year students of FSC should use FSC part 1 notes.
With the help of notes Students can cover the topic rapidly and can describe own words which is good sign of understanding. Some brilliant students only use text book recommended by PEC. Every students have own idea to get better marks but you need hardworking as well as smart.
Notes clear your concepts and remove confusing regarding topic. So ready to download class eleven notes from ilmkiweb.com. We are uploading class 11 notes on daily basis.
All Notes of 1nd Year Class
All subject notes of 1nd year class is available on this page please select a subject which notes you need. It will redirect you on specified page where you can download required 1st year notes.
 FSC Part11 Notes
1st year physics notes
1st year english notes
1st year islamic studies
1st year urdu notes
1st Year Notes All Board
1st year notes karachi board
v year notes sindh board
2nd year notes lahore board
1st year notes islamabad board
1styear notes faisalabad board
2nd Year Notes by writers