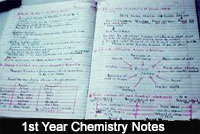 The 1st year chemistry notes are available according to Punjab Text Book Board Lahore. We gather best and valuable fsc part 1 chemistry notes which is very helpful for 1st year students.  These notes are according to syllabus recommended by FBISE (Federal Board of Intermediate and Secondary Education).
All the Notes are very handy and useful for the students of  first year to prepare the paper of Chemistry.
Mr.Muhammad Taufeeq Notes
These 1st year Chemistry Notes are written by Professor Mr.Muhammad Taufeeq and  applicable on following boards
Multan Board, Sargodha Board, Faisalabad Board,  DG Khan Board, Rawalpindi Board Gujranwala Board and others many pakistan board of Punjab.
Adamjee Chemistry Notes for 1st year
Adamjee chemistry notes for 11th class also available to download. You can take these notes free if you want to prepare your FSC(XI) preparation with adamjee chemistry notes.