Past Papers Of All Classes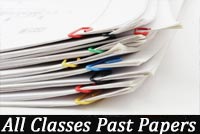 Past papers of previous years can be very handy for students of every class. It's  helps and great way to get the rid on full preparation of board exams.
Last couple of years students give more importance to past papers because past papers work for them. It's com to seen with the help of past papers students get good marks in exams. That's way past paper importance increase day by day in every year and in each class.
Its time when students are searching on internet for past papers of 5th class, 8th class, Matric and others as well like ECAT, MCAT, CSS, and PMS/PCS. Ilmkiweb take the initiative to provide all past papers of all previous years . This is only for education purpose so students get good marks with less effort and take the idea of paper. The beauty of this educational portal is availability of all education stuff at one place. Below select the class and download the desired or all subjects past papers. Thanks.